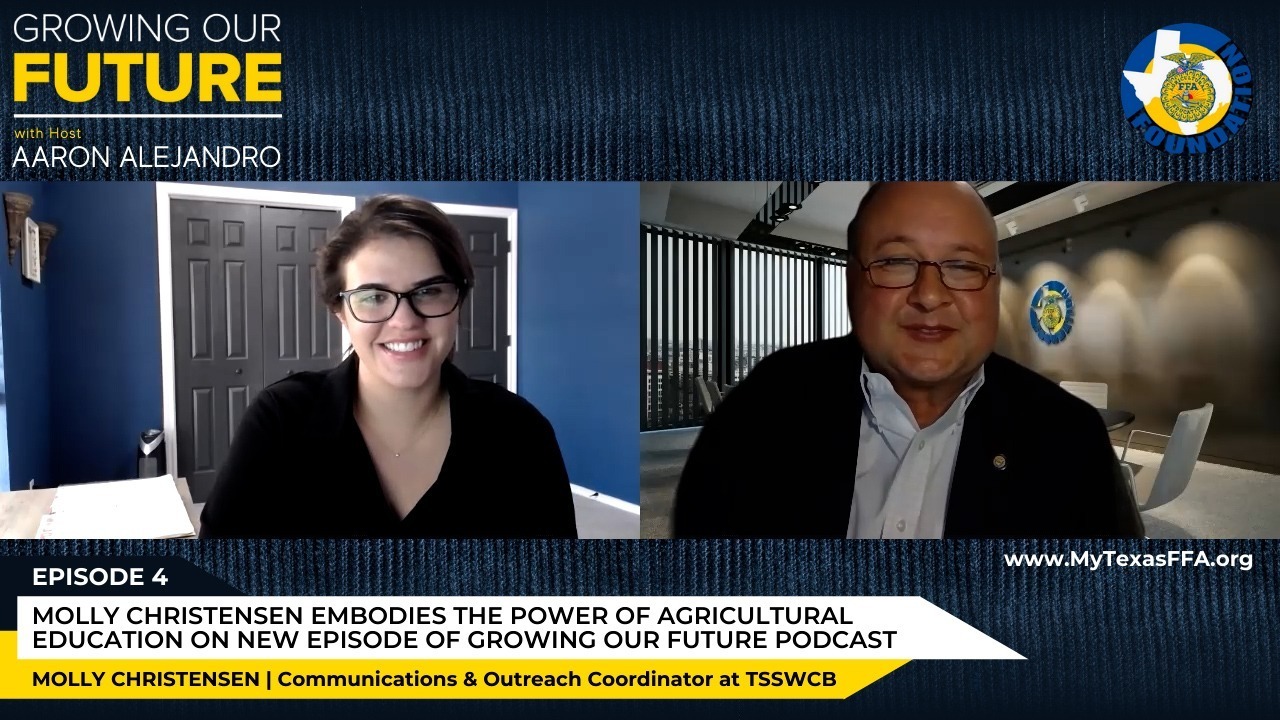 The National FFA Organization works to increase science and agriculture education opportunities for students across the country. The Texas FFA Association and Texas FFA Foundation are the largest governmental organizations in the country.
In this episode of the Growing Our Future podcast, Aaron Alejandro introduces Molly Christensen, Communications and Public Affairs Coordinator for the Texas State Soil and Water Conservation Board. Christensen's experience as an FFA member and Ford Leadership Scholar helped launch her current career.
Listen to the full episode with host Aaron Alejandro and Molly Christensen here.

call it fate
Molly Christensen, communications and public affairs coordinator for the Texas State Soil and Water Conservation Board and former Ford Leadership Scholar, sat at the back of the Farming 101 classroom as a teenager, little knowing that her life was about to change.
"It all boils down to that one decision that knocks over the dominoes," says Christensen. In many ways, Christensen embodies the FFA's mission, which host Alejandro tells the audience, is to give high school students a chance to improve their leadership skills.
According to Christensen, perhaps the most momentous decision she made as a high school student was to enter the FFA's Ford Leadership Scholarship program, a statewide nonprofit program. "From the application to the interview, you could take something away from every component," she says. Ultimately, Christensen decided to restore a local park. The experience she gained – including developing a budget, making a public presentation and creating a project proposal – proved invaluable in college and beyond.
FFA cultivates leaders
Alejandro and Christensen's shared FFA history means they have many shared experiences and mentors, a gift Christensen says she has "such a strong base to build on". In return, says Alejandro, Christensen was able to take advantage of the opportunities offered to her by getting involved…