Starting an online store is easier than ever in this digital era. 
The challenge lies in building a customer base that keeps coming back. 
By leveraging ecommerce email marketing, online retailers can build a powerful strategy for generating engagement, driving sales, and increasing customer loyalty. 
But first, you need to learn how to maximize its potential.
What Is Ecommerce Email Marketing?
Ecommerce email marketing is the practice of sending marketing messages to a targeted list of email subscribers. 
These may include potential customers, existing buyers, or people who showed interest in your products.
The use of email marketing for ecommerce goes beyond sales.
It also allows you to build rapport with customers, laying the foundation for a long-term relationship.
You can send them updates, event invitations, or relevant content to keep your brand top of mind. Or, you can ask for their feedback and use those insights to improve your products and offers.
Why Is Email Marketing Important for Ecommerce?
A well-planned ecommerce email marketing strategy can boost customer engagement and retention rates, leading to more sales. Over time, it may increase brand awareness and give your business a competitive edge.
But that's not all.
Email is an owned media marketing channel. You have control over your list and the content you share, and you don't depend on third-party algorithms to reach your audience (as it happens with social media or display ads). 
Additionally, email marketing is relatively low cost, which allows small- and medium-sized businesses (SMBs) to compete on a level playing field with big brands. 
Plus, it generates a higher return on investment (ROI) than other marketing channels.
Companies see an average return of $36 for every dollar spent on email marketing, according to Statista.
By comparison, Google ads generate $2 for every $1 spent.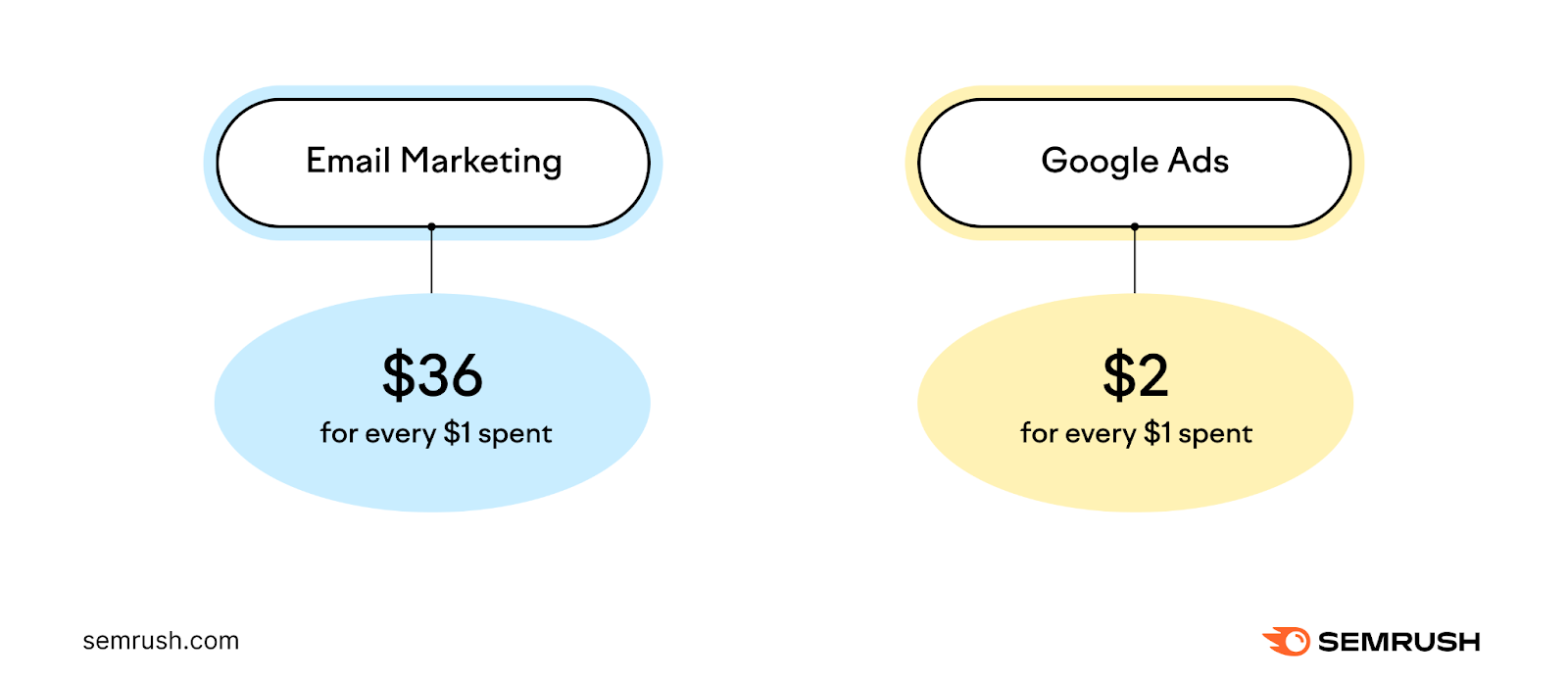 With that in mind, let's take a quick look at the benefits of ecommerce email marketing:
Connect with customers on a deeper level
Identify the prospects most likely to convert
Deliver personalized messages
Drive traffic to your online store
Gain further insights into your audience
Re-engage dormant or inactive customers
Build brand loyalty and generate repeat sales
Track the results in real-time
For example, you can segment your list based on age, gender, education level, purchase behavior, and other criteria.
With these insights, you can personalize your email marketing campaigns to reach the right people at the right time.
The result? 
A better customer experience, more engagement, and, ultimately—increased sales.
Further Reading: How to Get Started with Email Marketing in 6 Easy Steps
How to Set up an Ecommerce Email Marketing Campaign
Before you start sending emails to subscribers, you'll need to set up your strategy. 
This involves segmenting your audience, setting measurable goals, and crafting compelling content for each customer group. After that, testing things out and measuring the results is crucial.
Let's discuss these steps in detail.
Build an Email List
Building an email list is the central process for growing your audience and using email marketing effectively. Your list comprises all of the people who have opted in to receive emails from your brand.
Your marketing emails can target existing subscribers, new customers, repeat buyers, and other individuals interested in what you have to offer.
List building is an ongoing process. 
As more people discover your brand, you can encourage them to join your list to get exclusive discounts, product updates, gifts, and more.
There are also a couple of things you can do to encourage sign-ups:
Add sign-up forms to your social media posts
Run contests and giveaways
Create a landing page around your newsletter
Place sign-up forms in the comment box on your website or blog
Start an affiliate or referral program
Set up a PPC campaign
Host webinars and other online events
Offer white papers, ebooks, or online courses
Provide discounts for new subscribers 
For example, women's fashion retailer NA-KD offers a 10% discount for new subscribers. The discount serves as an incentive to encourage prospects to sign up. 

Let's say you decide to host a webinar for first-time customers. In this case, you'll ask attendees to register with their email address, as shown below: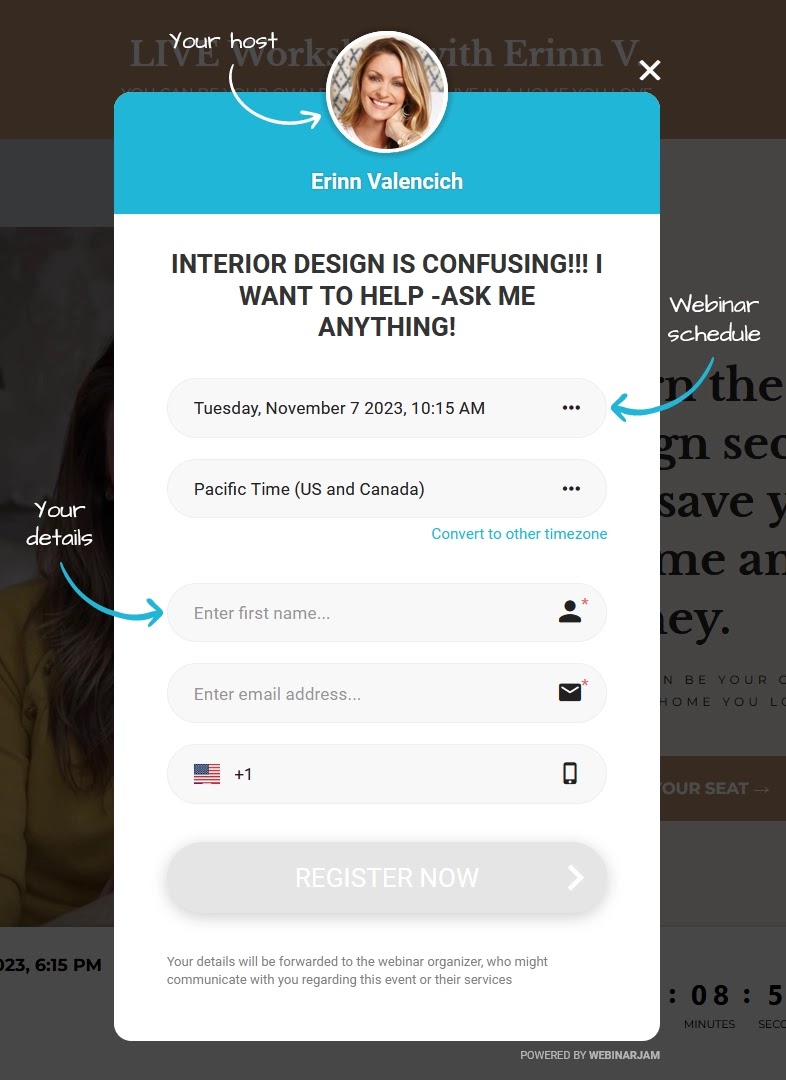 Use the same strategy when hosting contests, giveaways, or sweepstakes.
For example, an ecommerce store selling cooking appliances could give away free recipe books. To download a book, customers need to enter their names and email addresses in the designated box.
Here's an example from Food Thinkers, a division of Breville: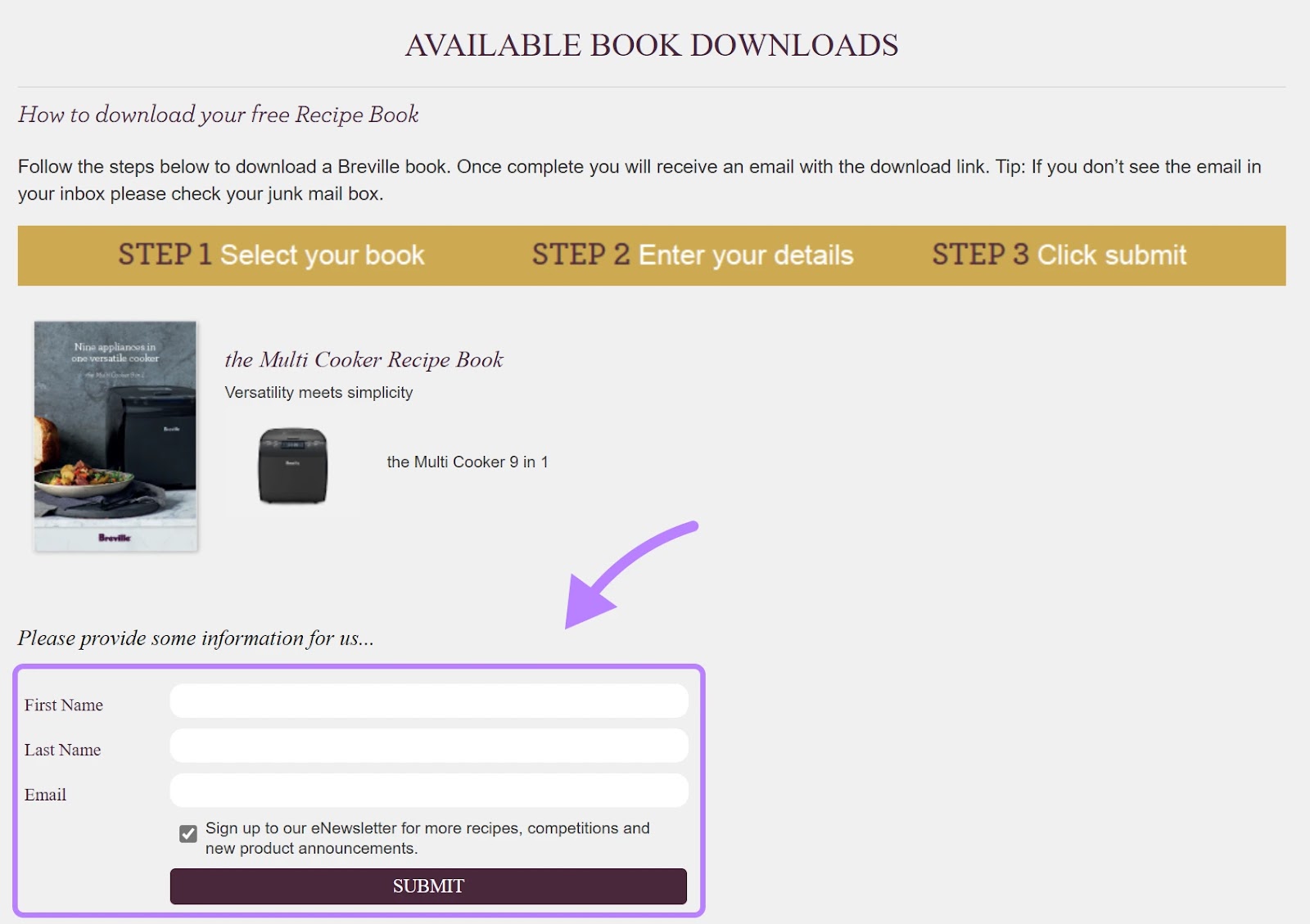 Depending on where you place your sign-up forms, you can get new subscribers via third-party websites, such as local business directories, social networks, or forums.
So if you add a sign-up form to your Facebook business page, your followers can join your list without leaving the platform. 
Set Measurable Goals
The best ecommerce email marketing campaigns have clear, measurable goals.
A few examples include:
Increasing monthly or quarterly sales by 15%
Reducing cart abandonment rate by 30% within the next six months
Boosting email open rates by 5% over the next quarter
Achieving a 10% increase in click-through rates (CTRs) within the next two months
Collecting feedback from at least 300 new subscribers through a post-purchase email survey
The goals you set for your email marketing campaigns will guide your actions.
Say you want to increase monthly sales by 15%. You can consider offering discounts or limited-time deals. 
Another option is to upsell or cross-sell products based on customers' browsing history and past purchases.
For example, Tom Tailor offers 20% off to drive seasonal sales to previous customers.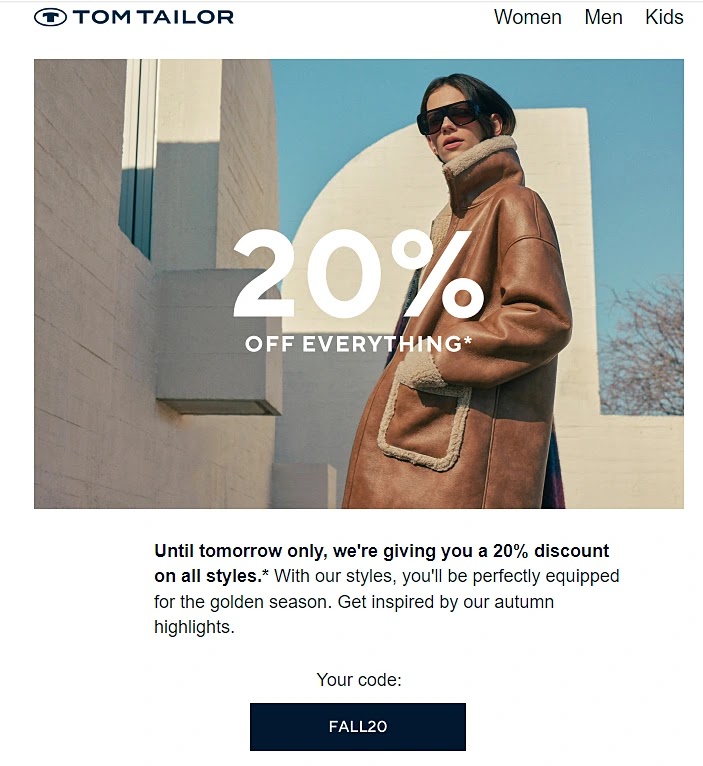 Choose an Email Marketing Platform
Next, use the right tools to plan, manage, and track your ecommerce email campaigns.
First, choose a reliable email service provider (ESP) like Constant Contact, Klaviyo, Mailchimp, or Omnisend. Consider your budget, list size, technical know-how, and any features you need or want, such as workflow automation.
For instance, Mailchimp offers pre-built email templates and landing pages, opt-in forms, survey tools, and advanced analytics. The platform is intuitive and user-friendly, making it easier to launch your first campaigns.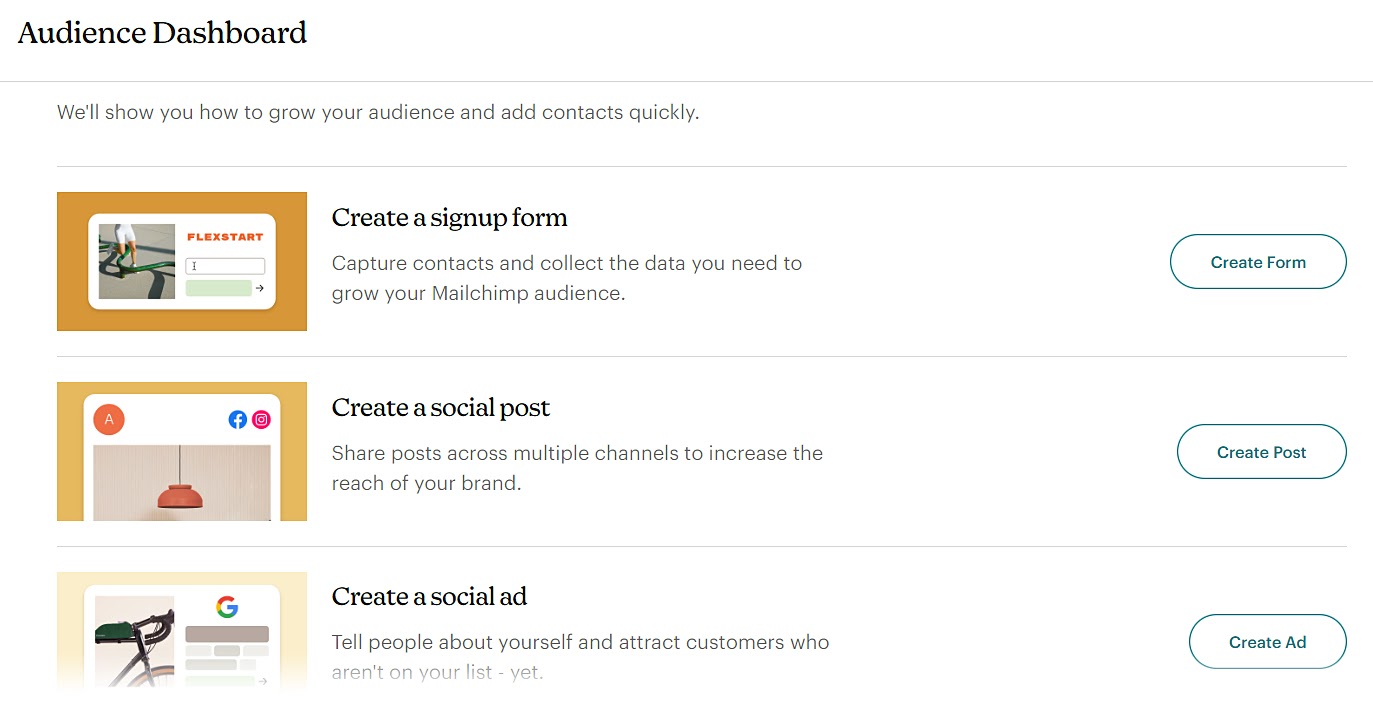 By comparison, Omnisend has more complex features and a stronger focus on ecommerce.
Therefore, it offers a wider range of tools for attracting and nurturing buyers, such as the option to add coupon codes and scratch cards to emails. But, as you might have guessed, it also involves a steeper learning curve than Mailchimp.
Apart from that, make sure you choose an email marketing platform that integrates with the tools you already use.
For example, you can connect Mailchimp to Canva or Adobe Photoshop to create and edit images for your marketing campaigns. Or, you can use Omnisend along with Easyship, ParcelPanel, or other shipping apps to keep customers in the loop about delivery times.
Segment Your List
Once you have an email list, divide it into multiple segments based on relevant criteria, like:
Purchase history
Buying behavior
Hobbies and interests
Occupation or job title
Buying frequency
Engagement level
Age range
Gender
Customer location
During the opt-in process, this data may come from various sources, such as your website, social media pages, and email analytics. You can also send out polls and surveys to your subscribers to learn more about them. 
Below is an example of the criteria you could use to segment your list: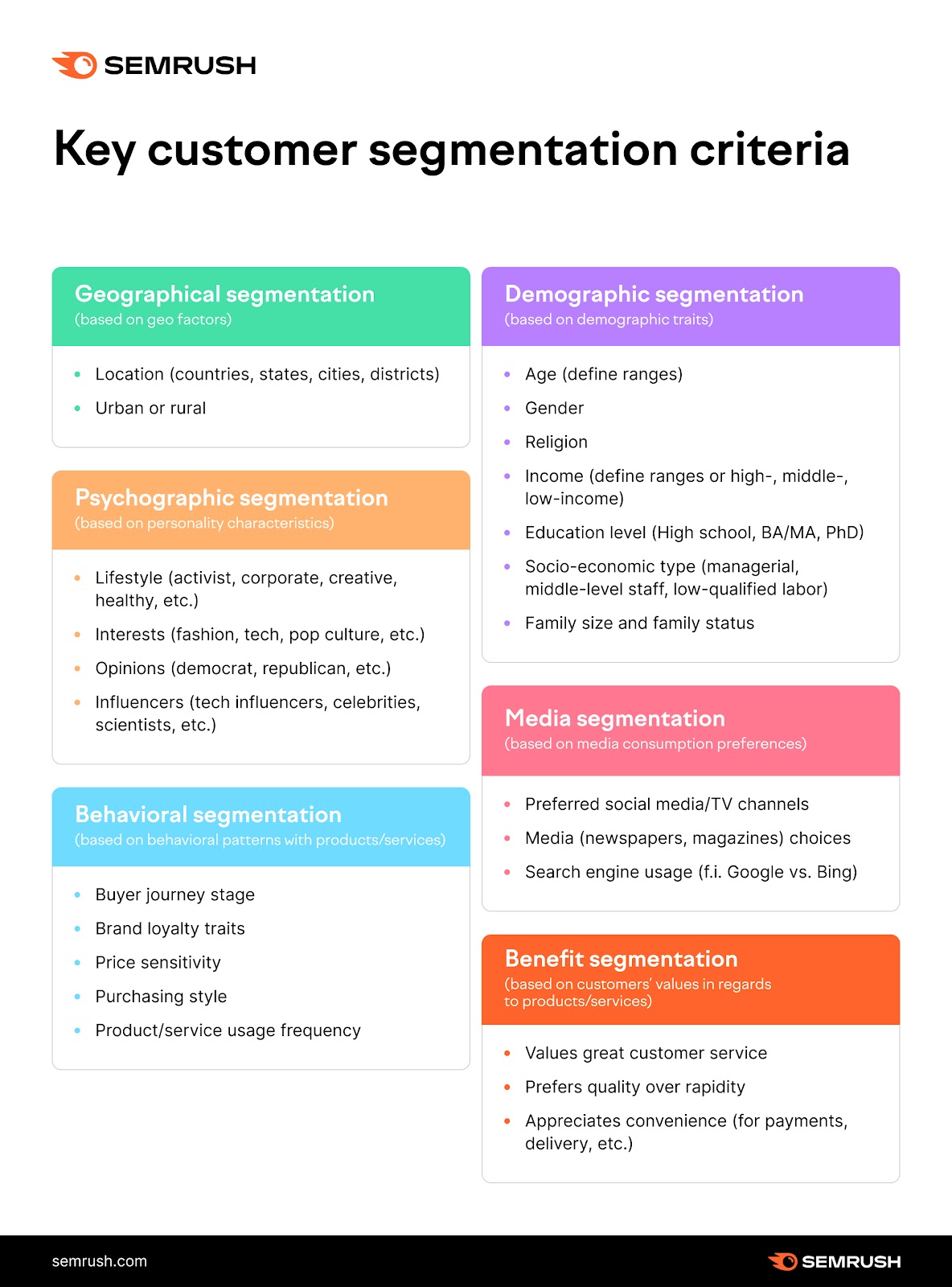 Segmentation allows you to personalize your messages for each customer group so you can better meet their needs.
For example, you might segment your list into buckets like:
New, first-time customers
Repeat customers
Potential customers who viewed specific pages or products on your site
Idle or inactive customers
This approach can result in 14.3% higher open rates, 100.95% higher CTRs, and 4.65% lower bounce rates than non-segmented campaigns.
Email bounce rate is the percentage of emails that failed to reach a recipient's inbox. The lower the number, the more subscribers received your message.
The click-through rate, on the other hand, is the percentage of subscribers who clicked on the links in your email. High CTRs indicate increased engagement.
The simplest way to segment your list is to use an email marketing platform. These apps have built-in tools for creating buyer personas and tracking the customer's journey from start to finish. 
Plan Your Emails and Follow-ups
Your target audience consists of multiple customer groups with distinct needs. Therefore, you need to determine when and how to reach out to each group.
With that in mind, create an email marketing calendar for the next few weeks or months. Use it to schedule your emails and follow-ups and keep track of your campaigns. 
Decide whether you want to build your calendar from scratch with Google Sheets, Microsoft Excel, or similar tools or use customizable templates.
If you prefer to draft one yourself, see these content calendar examples for inspiration. Next, create multiple entries, such as:
Campaign name 
Types of emails to be sent (e.g., newsletters, follow-ups, welcome emails)
Subject line
Product features/offers 
Target audience
Calls to action (CTAs)
Send date and time
Status (e,g., sent, in progress, scheduled)
Owner (the person responsible for sending out the email)
Goals (e.g., generate leads, welcome new subscribers, re-engage inactive customers)
Your email marketing calendar could look like this:
Similarly, you can use a calendar to plan your content marketing strategy. For example, schedule your blog posts and social media content for the month ahead.
Brainstorm Topics 
Next, determine which topics you'll cover in your newsletters and other email messages. 
The Topic Research tool can help you get started. 
Here's how:
Log in to your Semrush account and click "Topic Research" under "Content Marketing" on the left side of the page.
To continue, enter a topic you want to write about. Or, you can paste your domain name into the designated box and let Semrush suggest content ideas.

Let's say you want to create an email series about yoga mats.
Type "yoga mats" into the designated field, select your target market and preferred language, and click "Get Content Ideas."
Topic Research will generate a list of search terms, or keywords, related to "yoga mats."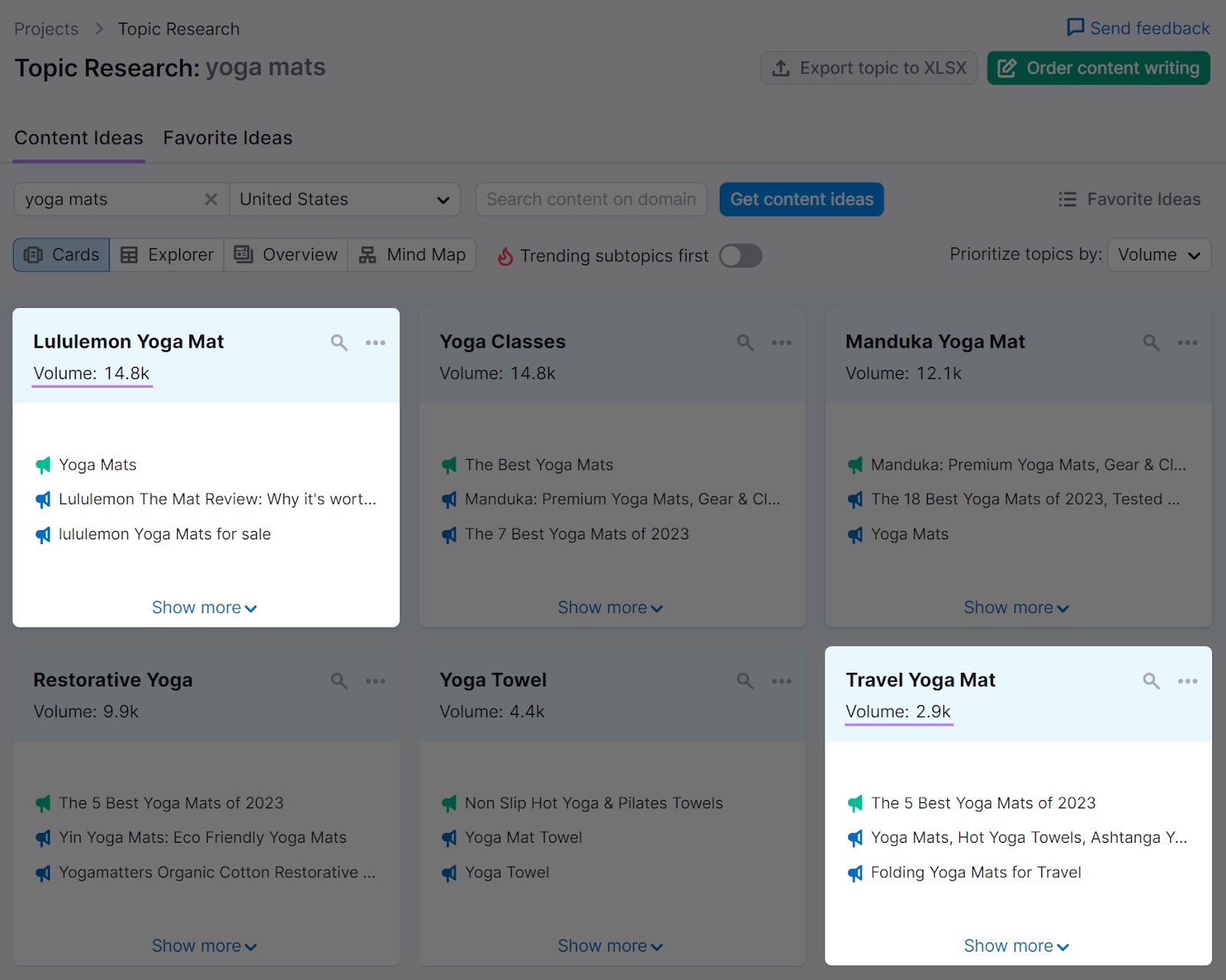 For example, "Lululemon Yoga Mat" has a search volume of 14,800. So it's more popular than "Travel Yoga Mat," which has a search volume of 2,900. This figure represents the average number of searches for a given keyword.
Now click "Mind Map" to get a list of headlines and customer questions related to "yoga mats." Any of these could be a potential topic for your marketing emails.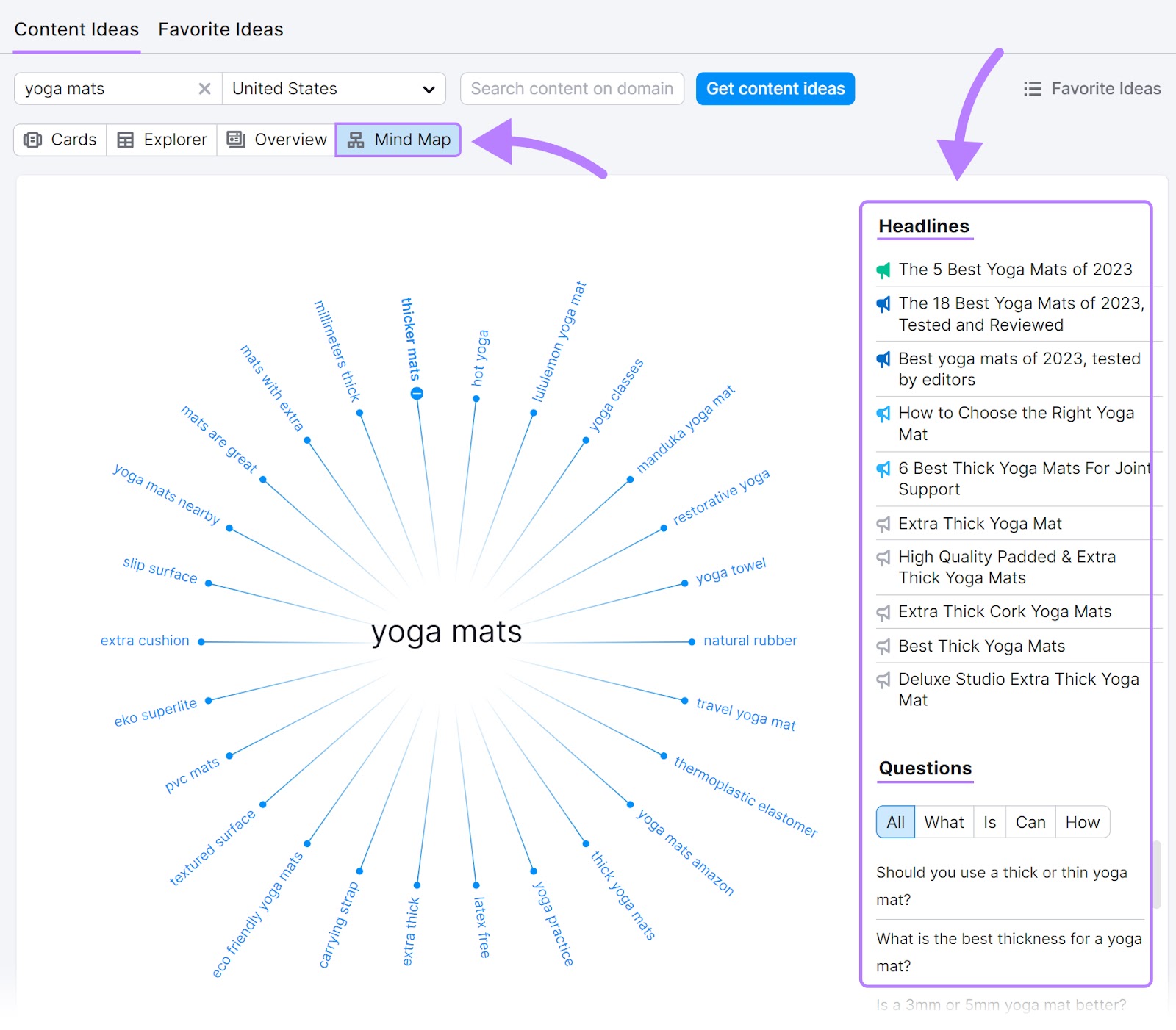 For example, you could write a newsletter on the "5 Best Yoga Mats of 2023" and link to your products where appropriate.
Moving forward, use the Topic Research tool to generate content ideas for your upcoming campaigns. 
Group the topics by campaign type, goal, target audience, and other criteria to keep things organized. After that, create unique content related to the topics on your list. 
Write Compelling Email Copy
Your email copy should provide value and capture the reader's attention from the first few lines. It should also tell subscribers what you expect them to do and what's in it for them.
That said, follow these tips towin people over with compelling email content:
Write catchy subject lines: Use actionable language to make your subject lines more engaging. Words and phrases like "Don't miss out," "Learn," "Discover," or "Jumpstart" spark curiosity, giving subscribers a reason to keep reading.
Optimize the preheader text: The preheader is the first thing people see in the email preview text along with the subject line. Keep it between 30 and 80 characters to ensure it displays well on mobile devices. This line of text should summarize your message and entice readers to open your email.
Personalize whenever possible: About 62% of consumers would stop engaging with a brand that fails to deliver personalized content. Personalize your subject line, email body, and call-to-action (CTA) with the recipient's name and other relevant details for best results.
Make it all about the customer: Always prioritize your customers' needs. Explain how your product can meet those needs or solve a problem, but refrain from being overly promotional.
Keep your message short and sweet: If your email message is too long or confusing, you'll end up losing the reader's attention. Be brief and cut the fluff to ensure your message gets through.
Establish common ground: Try to learn more about your customers' interests, hobbies, pain points, and expectations. Ask open-ended questions to delve deeper into these aspects and create content they can relate to. For example, you could ask them to fill out short surveys via email or other channels, such as social media.
Underpromise and overdeliver: Spend less time talking about your brand and products and more time delivering value. For example, your customers may benefit more from a special discount, free online courses, free shipping, or other incentives than a page-long email praising your brand.
Quality content is at the core of the most successful ecommerce marketing strategies. While it's crucial to master the technical side of things, that's not enough to get your point across.
Your email copy should serve as an extension of your brand. Be genuine, avoid overly salesy language, and create content that informs, entertains, or educates your audience.
A/B Test Your Marketing Emails
This practice involves different versions of your subject lines, CTAs, preview text, and other elements. 
Even small tweaks, like using a new font or background, can have a big impact.
For example, marketing emails with personalized subject lines have 22,2% higher open rates than those using generic subject lines.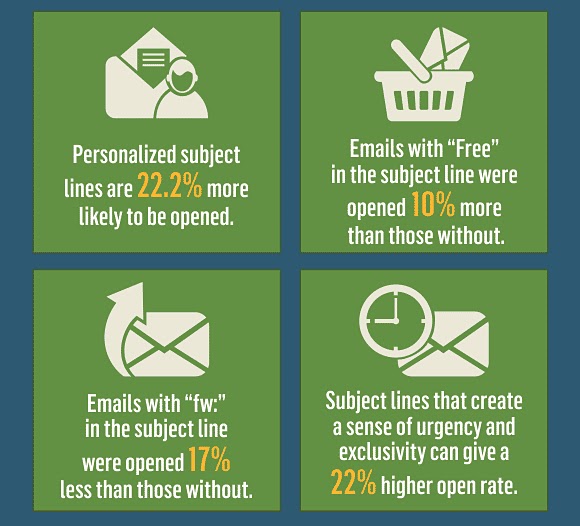 Image Source: Invesp
You can also use A/B testing to determine the best time to send out your emails.
In this case, you'll send the same email to different groups of subscribers on different days or at different times of the day, and then compare the open rates.
Further Reading: What Is A/B Testing? A Comprehensive Beginners' Guide
Track Campaign Performance
Measuring and tracking your email campaigns will provide insight into their performance. You can use this data to understand if you're hitting your email marketing goals. 
Plus, it will help you see where and how you can improve your email marketing strategy.
First, determine which metrics are most relevant to your email marketing efforts. These may include, but are not limited to:
Open rate
Click-through rate
Bounce rate
Unsubscribe rate
Conversion rate
Spam complaint rate
For example, most retailers have an average click-through rate of 1.95%, an average open rate of 31.64%, and an average bounce rate of 3.76%.

If your CTR is lower than that, consider using stronger CTAs. Try to make your content more relevant and compelling. And perform A/B testing to track the results.
Conversely, a high spam rate may be due to weak or misleading subject lines, missing email headers, file attachments, or poor targeting.
Sometimes, this problem occurs because of content-related issues, such as the use of spam trigger words like "risk-free," "as seen on," "best price," or "no cost."
Most email marketing platforms have built-in tools for tracking these numbers. Simply check the analytics section to see how your metrics change over time.

For example, Mailchimp and Constant Contact feature built-in heat maps. These visual tools allow you to track user behavior on your website. 
You can see how visitors interact with your pages, including how far they scroll down, which images they click on, which areas of the page get the most attention, and so on. The maps are color-coded, making it easy to visualize and interpret the data. 
Here's an example of a heatmap from Mailchimp. It highlights the areas of the email that get the most clicks: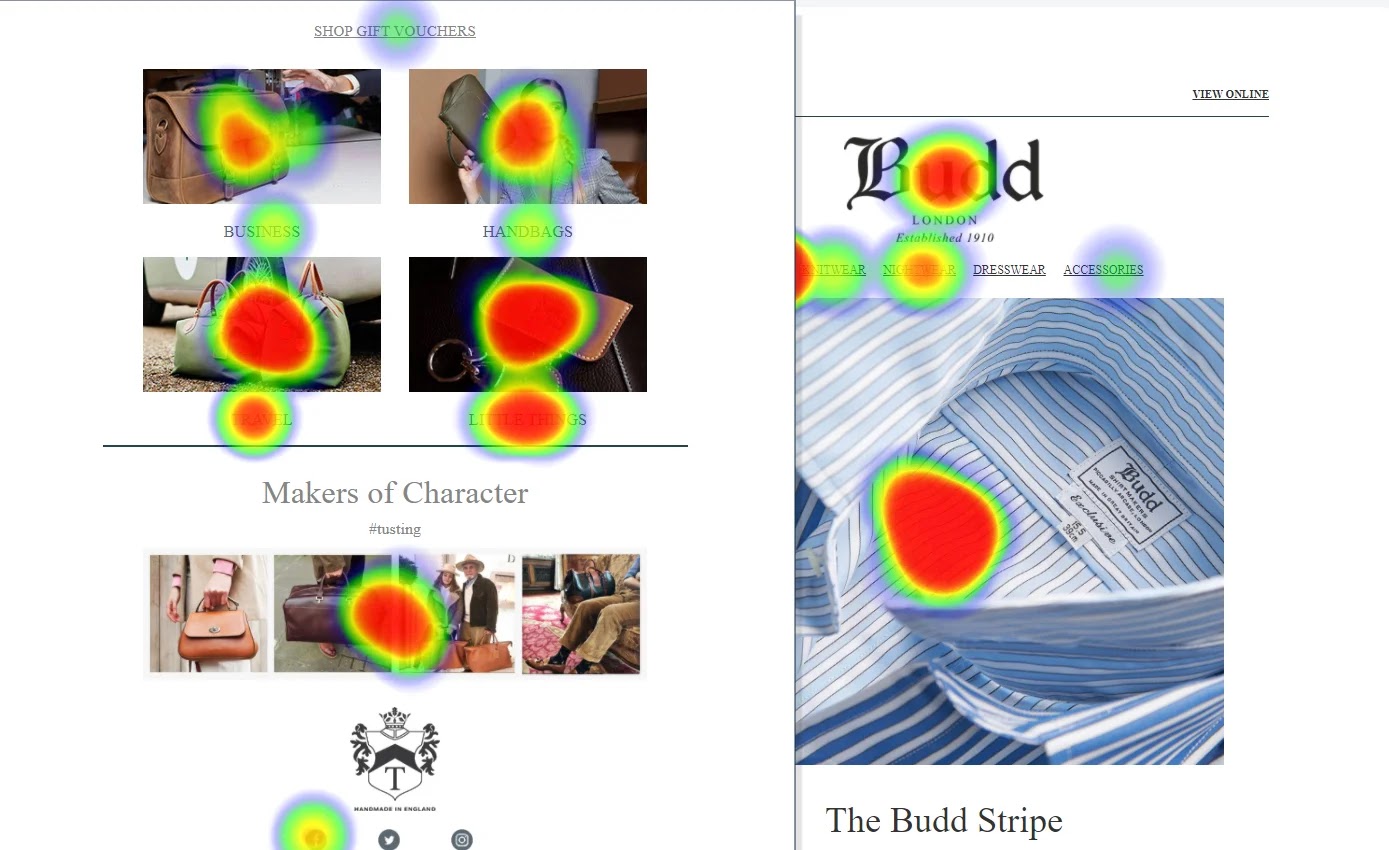 While not all ESPs offer analytics tools, you can use Google Analytics 4 (GA4) to track your email campaigns. 
First, you'll have to build custom URLs with Urchin Tracking Module (UTM) codes. After that, you'll add them to your email body, launch your campaign, and check the results in GA4. 
Types of Email Campaigns
For best results, create different types of email campaigns targeting various customer groups. 
Say you're targeting new subscribers. You'd send them a welcome message followed by other emails to encourage them to make their first purchase.
On the other hand, abandoned cart emails can help bring back customers who added products to their cart and left without buying. Like the example below from iHerb: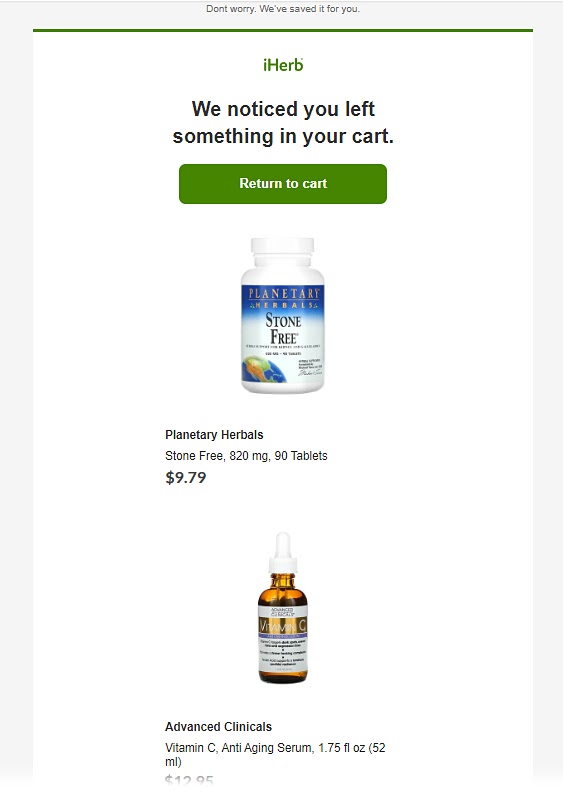 The type of email campaign you should use depends on your marketing goals and where the customer is in the sales funnel. 
Here are some of your options:
Transactional Emails
These confirm an action the user takes while visiting your ecommerce site or mobile app.
For example, you'd send an order confirmation email after a customer makes a purchase.
Transactional emails usually contain user-specific information, such as the recipient's name, password reset links, or receipts. Their role is not to sell but to facilitate a commercial transaction and streamline the shopping experience.
For instance, customers who subscribe to Skechers receive an email for joining with a discount code inside.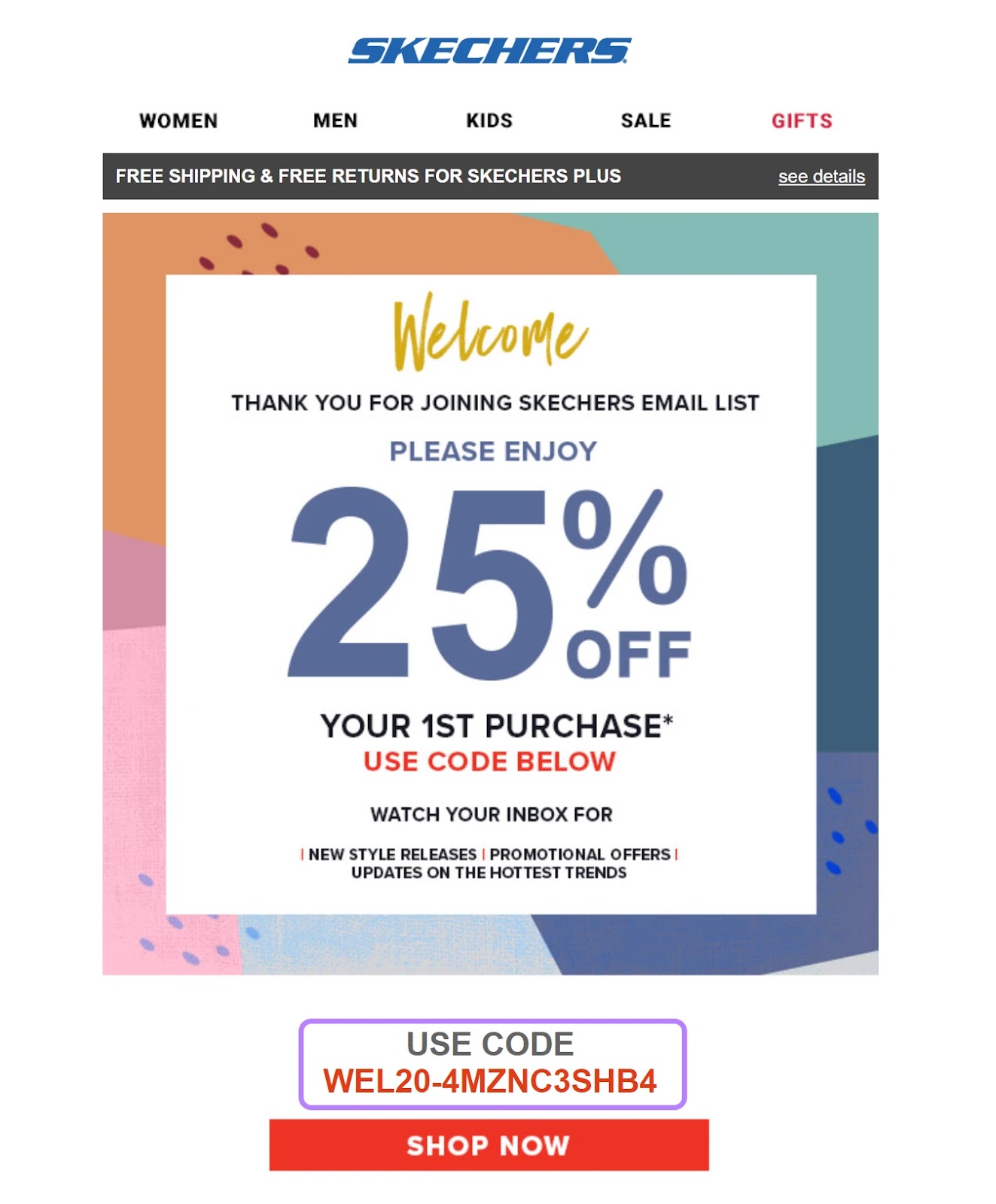 Common types of transactional emails include:
Welcome emails: Thank your customers for subscribing, and introduce them to your brand or products. Let them know what to expect from future communications.
Order confirmation emails: Usually include an order summary, a digital receipt, and other details related to the purchase
Shipping confirmation emails: Let customers know that their orders have shipped. Include any relevant information, such as an estimated delivery date and tracking links.
Thank you emails: Tell subscribers you appreciate their business, feedback, or support. For example, you can thank them for placing an order or filling out a survey.
Promotional Emails
The role of promotional emails is to drive sales. Therefore, they should highlight your unique value proposition and include a strong call-to-action.
This type of email message may contain special offers, exclusive discounts, or other incentives. You can also make product recommendations based on the recipient's purchase history.
Here's what else you can include:
Information about new products 
A discount code for members only
Back-in-stock alerts
Seasonal promotions
Time-sensitive deals
Access to exclusive content
Free offers or bonuses
As shown below, the fitness brand Better Bodies offers time-limited discounts on specific products. The discounts are large enough to drive massive sales in a short period.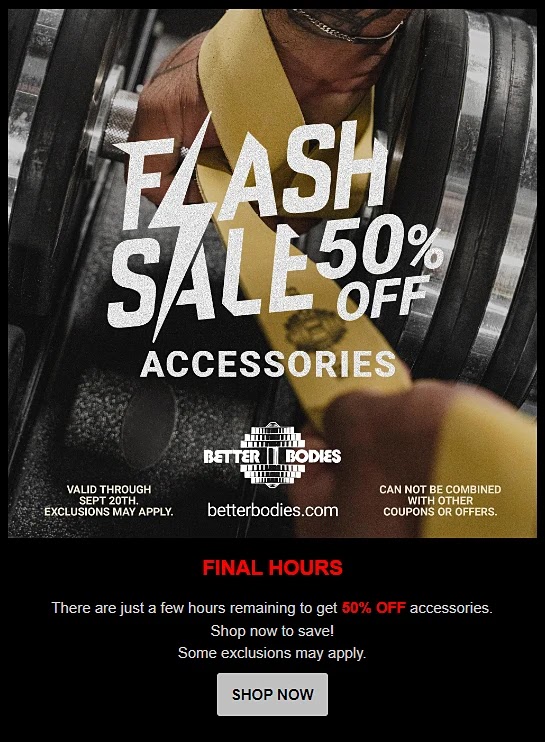 For best results, use only one CTA per email. While adding multiple CTA buttons is okay, they all should reinforce the same message. Too many different CTAs can create confusion and drive buyers away.
Behavioral Emails
Most sellers send these automated emails in response to the actions taken by customers on their websites or social media pages. 
Their primary goal is to achieve a higher conversion rate through customer nurturing, re-engagement, and personalization tactics.
Popular types of behavioral emails include:
Check-in emails: Let your subscribers know that you were thinking about them. Share a piece of news or offer a discount to grab their attention.
Upsell emails: Encourage them to buy a premium version of your product or pay for extra features
Cross-sell emails: Recommend complementary or related products after a customer makes a purchase
Second-order emails: Make a special offer or suggest related products to turn first-time buyers into repeat customers
Cart abandonment emails: Incentivize buyers who left their shopping carts to return and complete the purchase
Win-back emails: Create an email series to re-engage inactive buyers. Start with a check-in email and follow up with additional emails to incentivize customers, ask for feedback, and give them one last chance to stay on your list.
Behavioral emails can also drive brand loyalty and increase customer lifetime value.
For example, the likelihood of selling to existing customers is around 60% to 70%. By comparison, the chances of selling to a prospect are 5% to 20%.
Amazon does a great job in this regard. The company leverages customer data to make personalized product recommendations.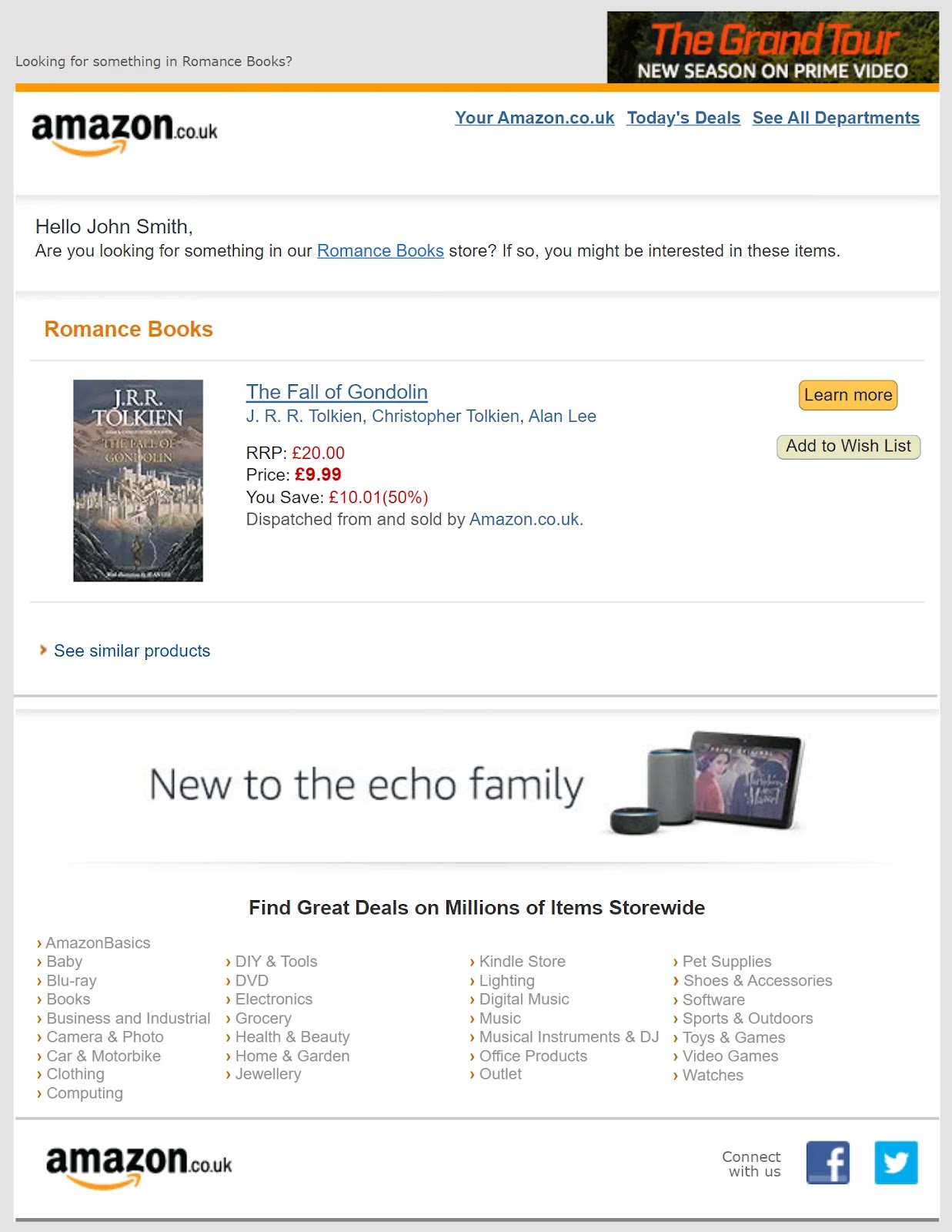 Given these figures, it's easy to understand why behavioral emails—especially re-engagement email campaigns—hold so much value.
Ecommerce Email Marketing Best Practices
A successful email marketing campaign requires business acumen, technical know-how, and creativity. While it's important to write good copy, you must also structure it in a way that will delight and persuade readers.
Your email marketing efforts should align with the latest trends in ecommerce.
For example, did you know that the future of ecommerce is mobile?
According to Campaign Monitor, 81% of consumers read their emails on smartphones. Another 21% open and read them on tablets. That means you must optimize the preview text, email copy, graphics, and other elements for mobile devices.
Make sure you also follow these practices to maximize revenue from your email marketing:
Use email templates to save time: Mailchimp and similar platforms feature pre-built templates for welcome emails, thank you emails, follow-ups, and more. All you need to do is customize them with your company's logo, the recipient's name, and other details. Alternatively, create your own email templates from scratch.
Leverage email marketing automation: This practice involves sending automated or triggered emails based on user activity, such as when a subscriber places an order or views a particular product. 
Grow your email list organically: While it may be tempting to buy email lists, doing so can hurt your ecommerce business. You might end up targeting the wrong people, getting your emails flagged as spam, or violating laws such as the General Data Protection Regulation (GDPR) and the CAN-SPAM Act.
Use visuals to drive engagement: Emails with images have significantly higher open and click-through rates than text-based messages. Use a mix of photos, infographics, GIFs, and other visuals to make your emails more visually appealing.

Conduct regular website audits: This practice allows you to identify opportunities to improve the visibility and placement of email sign-up forms, among other perks. It also ensures your website content aligns with your email marketing efforts, which can improve the user experience (UX). See ourguide on how to conduct an ecommerce website audit for further insights.
Set up double opt-in: When a new customer joins your list, send them an opt-in confirmation email. This extra step can help you build a higher-quality list, ensure GDPR compliance, and reduce bounce rates.
Add dynamic content to your emails: Ecommerce brands use cto personalize the user experience. Dynamic text, images, and videos change based on the subscriber's data, behavior, interests, and other characteristics, leading to higher engagement.
Leverage social proof to boost sales: Collect feedback and testimonials from customers, then include them in your emails to build trust. Go one step further and ask loyal customers to write product reviews on their social media pages or blogs. Link to those reviews from your product pages and email messages.
Make your subscribers feel valued: Drive customer loyalty through personalized offers, subscriber-only discounts, and early access to new products. For example, you could send out birthday emails along with a discount code and free shipping.
Choosing a reliable ESP and the right email marketing tools can make your work easier.
For example, some ESPs have pre-built email templates. This aspect alone could save you hours of research and design.
So far, we mentioned Mailchimp, Klaviyo, Omnisend, and Constant Contact, which are some of the best ESPs on the market.
Let's take a quick look at these tools (and others)—and their key features.
Mailchimp
Mailchimp is an all-in-one marketing platform for small businesses and large enterprises alike. You can use it to segment your list, send out surveys, track the customer journey, and measure campaign performance.
Key Features
A/B testing
Behavior analytics
Visual analytics
Customer activity tracking
Marketing calendar
Pre-built email templates and forms
Email marketing automation tools
Klaviyo
Klaviyo is an email marketing automation platform featuring over 300 integrations and dozens of built-in tools.
Users can test and optimize their campaigns, automate complex workflows, and leverage AI to write better email copy. Klaviyo also has a huge library of pre-built forms, automation templates, and email templates for online vendors.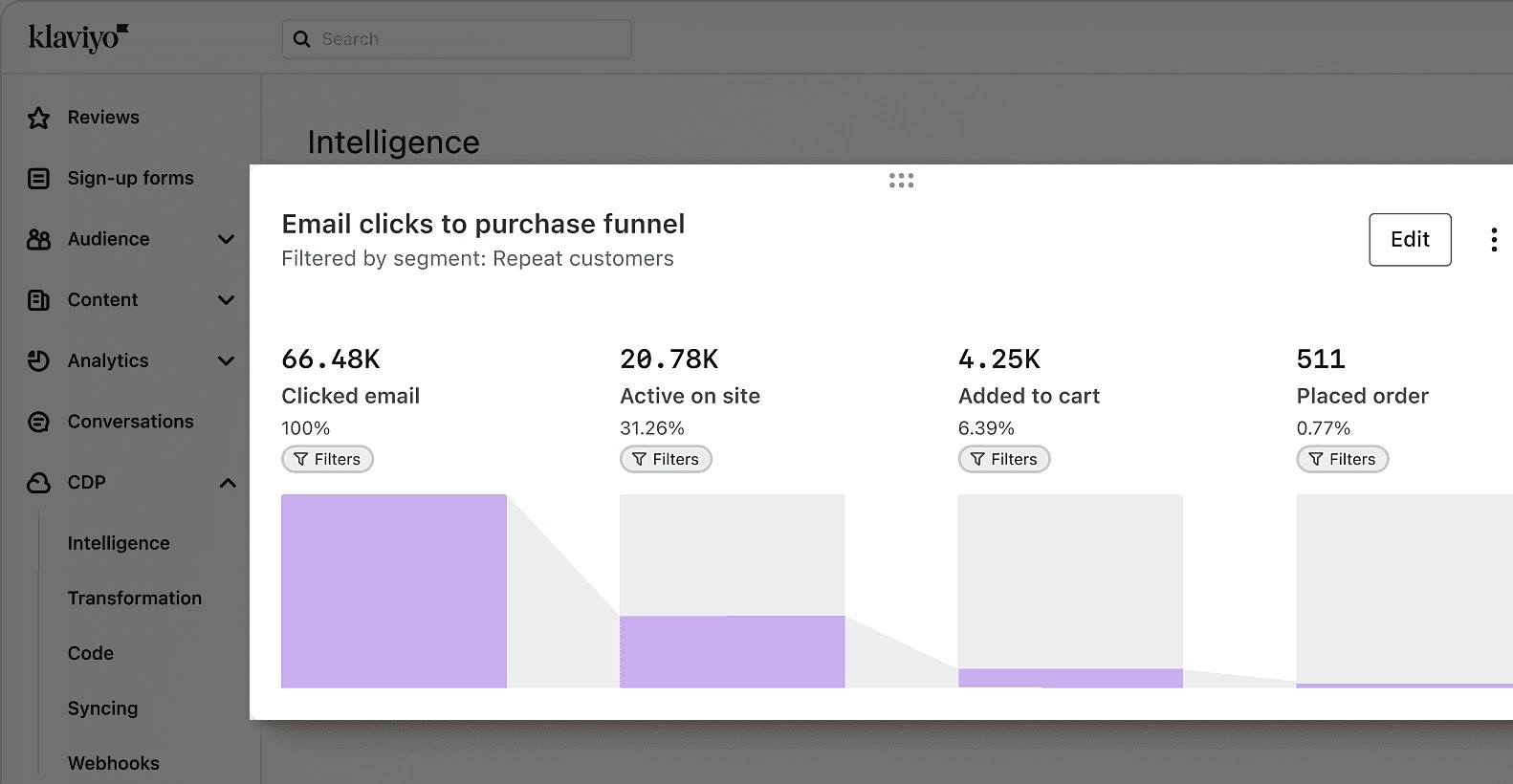 Image Source: Klaviyo
Key Features
Automated email responses
Customer segmentation
Behavioral targeting
Drag-and-drop email builder
Ecommerce flows
Advanced analytics
Send time optimization
Omnisend
Omnisend can be easier to use than Klaviyo and has a stronger focus on ecommerce than Mailchimp. It's suitable for beginners, startups, and small- to medium-sized businesses, offering numerous automation tools.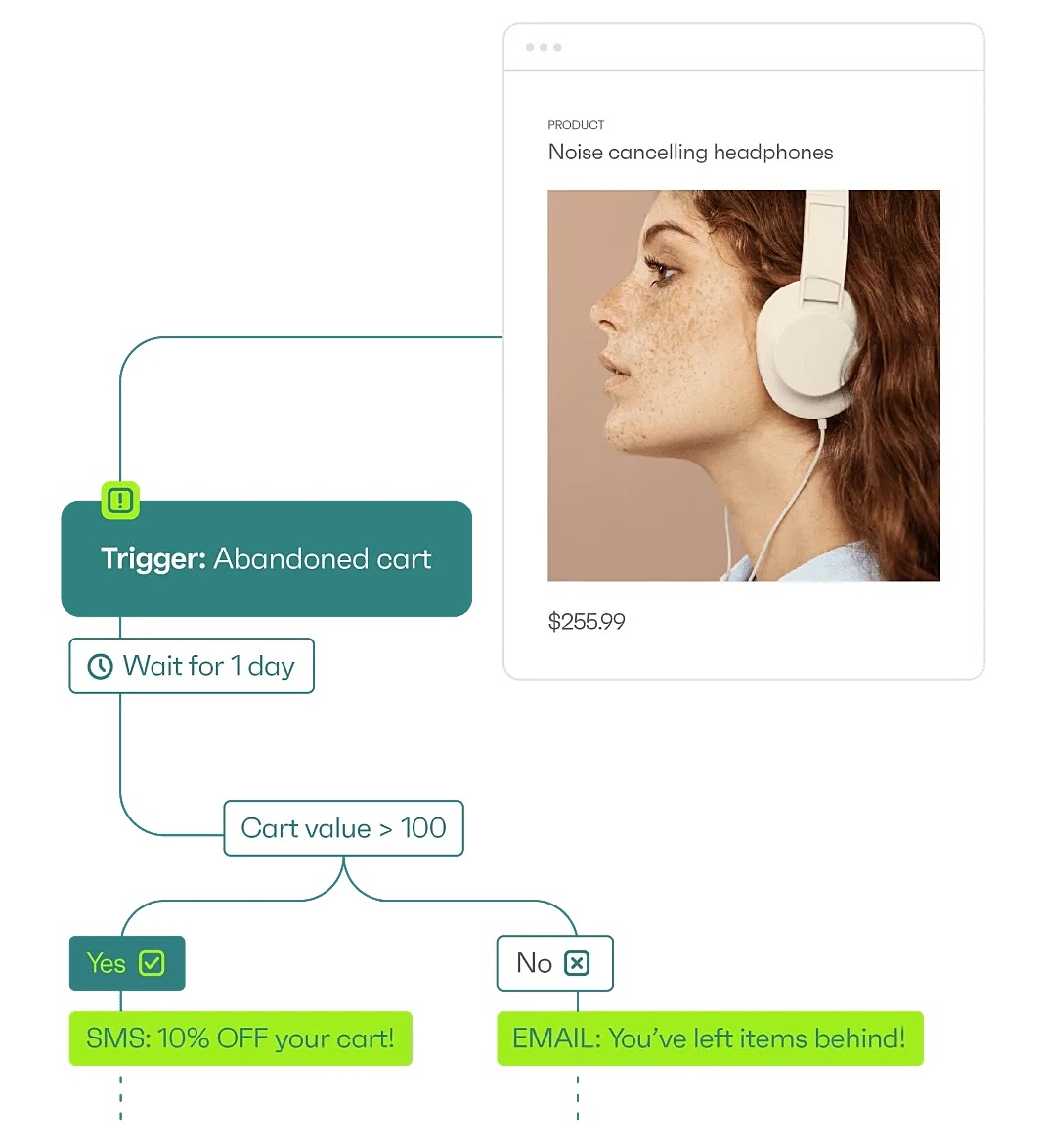 Image Source: Omnisend
Key Features
Drag-and-drop email builder
Campaign optimization features
Campaign click maps
150+ pre-built email templates
List management tools
Signup form builder
Constant Contact
Constant Contact appeals to small businesses, featuring an intuitive interface and easy-to-use email marketing tools. It's more basic than Mailchimp but has everything you need to launch and manage your first campaigns.
Key Features
User-friendly navigation menu
List building tools
A/B testing
Drag-and-drop email editor
Built-in customer relationship management (CRM) system
Advanced email automation
Easy-to-use reporting tools
MailCharts
MailCharts is an ecommerce email marketing platform for brands. Users can access real-time and historical data, research competitors, and collaborate seamlessly.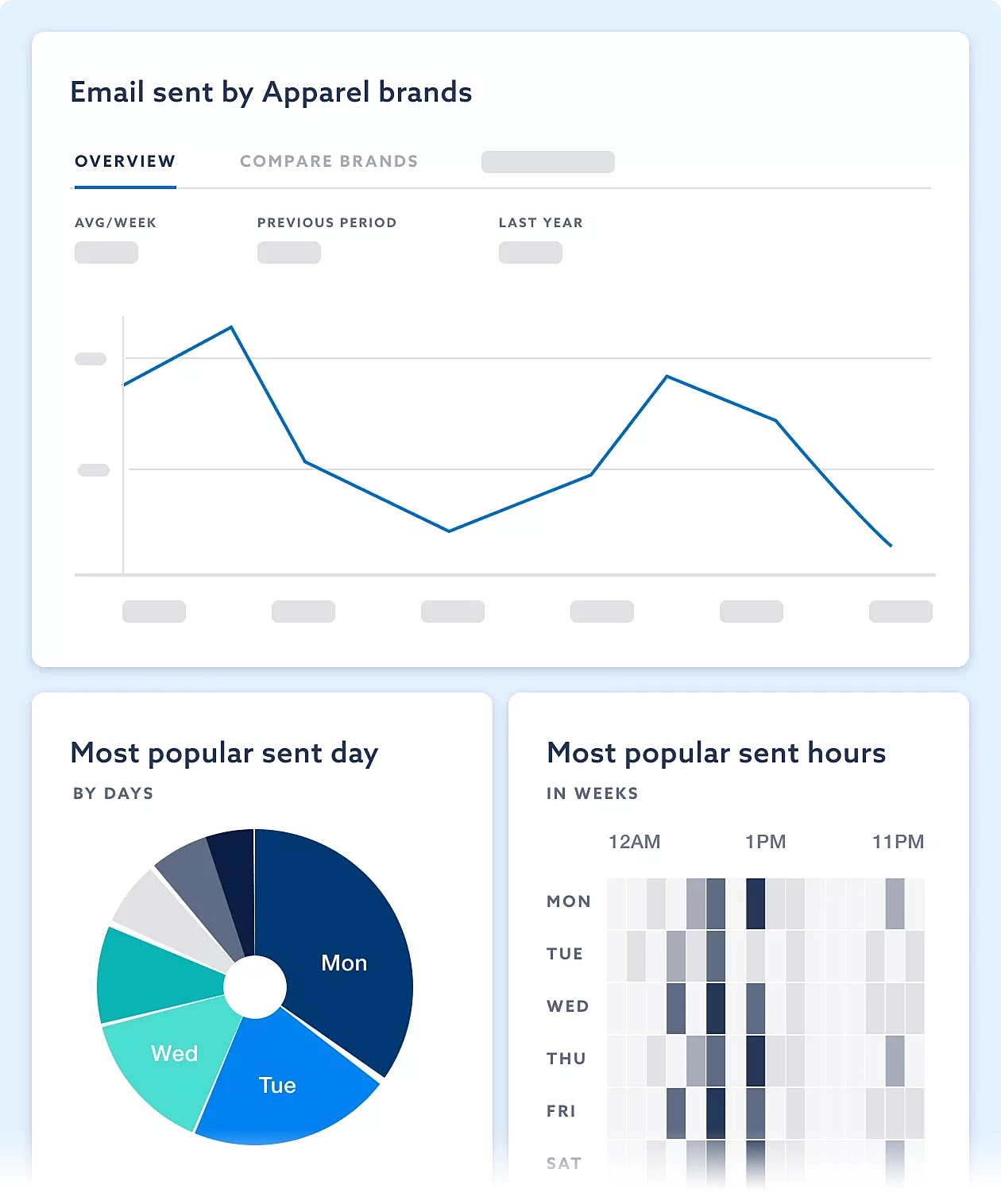 Image Source: MailCharts
Key Features
Competitor analysis tools
Team collaboration tools
Advanced reports
Holiday email planning
List management
Industry insights
Owletter
Owletter enables vendors to analyze their competitors' newsletters and other marketing emails. Users can leverage these insights to optimize their campaigns and do things better than other sellers in their niche.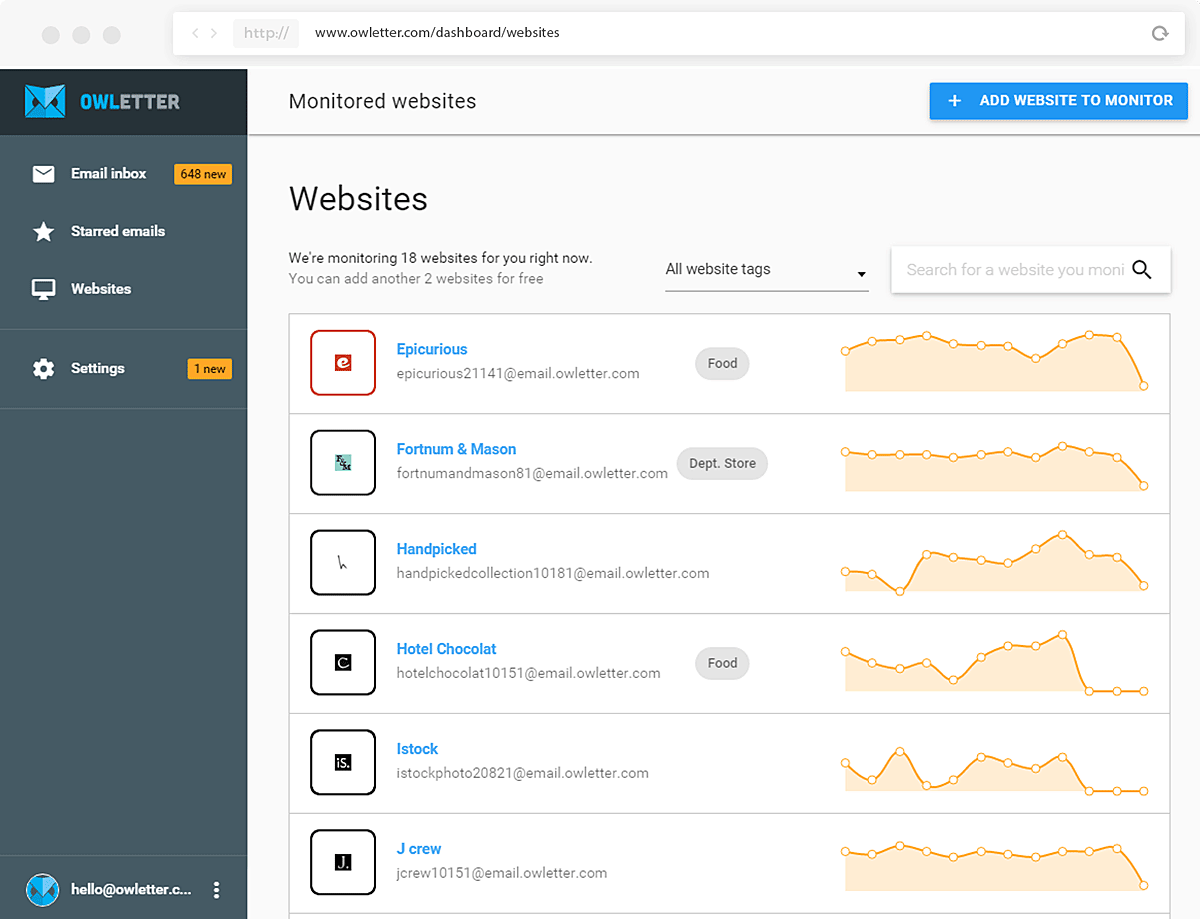 Image Source: Owletter
Key Features
Competitor email analytics
Discover trends and patterns
Bookmark and store emails from other brands
Get Started with Ecommerce Email Marketing
Ecommerce email marketing requires ongoing effort. 
You have to continuously review and refine your strategy. But if you do it right, the results will be worth it.
To get started, enroll in our free course: Engage & Convert: The Ultimate Email Marketing Guide. 
We'll show you how to define and segment your audience, build customer loyalty, and write emails that sell.
In the meantime, create your first campaign and test it on a small group of subscribers. Track the results, make changes as needed, and fine-tune your approach as you learn the ropes.
Need a quick boost of inspiration? Use Semrush's Topic Research tool to craft compelling headlines and discover what your subscribers want to read.